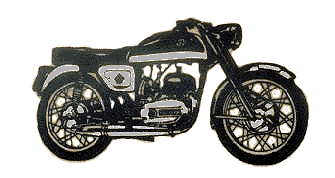 ---
In about 1974 in Atlanta Georgia, I was into my second year of motorcycling - as transportation sure, but as much a way of joining the ritual weekend ride to the north Georgia mountains. I'd join the dozen or so devotees that got me hooked on two wheeled machines, rendezvous Sunday morning at John Hoffman's Esso and charge off with sound and fury on John McAdam's twisting black gift to young lads on two wheels. The motorcycle aesthetic for this crowd was that in spite of the fact that Japanese machinery ruled the paved track at the time, the true essence of motorcycling was only embodied in European bikes, with as it was referred to, "Cob Appeal". Even without an explicit definition ever being attempted of what constituted an essential attribute of "true motorcycling", they all would nod in knowing fraternity when the point was made about what bikes had it and what ones didn't. Anything British had it of course. With an R90S BMW, the handlebar fairing might be a little sissy, but in a Teutonic way it had it. Ducatis had it with a Latin, desmodronicly sexual flourish.
My 350 Yamaha R5 decidedly didn't have it and so could not propel me to a true understanding of the Cob Appeal gestalt. I would have to ride it to understand it. My first bike that undisputedly embodied CA was a green 1970 Trident. While it had undeniable visceral appeal, after a few months of love-hate (replacing broken valve springs, stripped cogs, fried clutches, etc., etc.), it was mercifully totaled with me left un-scathed (rear-ended at a stop light by a precursor to the "soccer mom"). Suddenly bike-less, I asked the guy that got me started on this decent into two-wheeled metaphysics what he figured the insurance money from the Trident would best be spent on. I recall that he answered by providing a wallet-burning description of a Bultaco Metralla that he had owned a few years before.
I can't recall where I found one, but soon enough I was the proud owner of a black & silver model, stock as a stove and now my daily transportation. The standard test for any of our rides for fair comparisons when at "Everybody's Pizza" was near-by Clifton Road. Suitably fortified with liquid courage, we'd charge off to the "Clifton Twisties" riding at a pace that only immortal youth considers reasonable. The R5 had speed, was nimble in Clifton's three or so miles of tight corners in a not particularly connected way while the Triumph was solid and willing but with a distracting clatter rather like a 33 record of a gravel smasher played at 78. The Metralla though ....................... the experience was all together of a different quality. Even in the mid-70's a Metralla was noticeable for its utter lack of the superfluous - certainly no electric start, no battery, no engine oil pump, not even an ignition switch. It expressed single-minded function and utility with Latin-sensibility style that made even a Ducati 250 Mk. III Desmo look over-dressed, and at 225 pounds, it had numbers to prove it. On tight roads of the 35-45 MPH corner variety, it was in its natural home. With utterly neutral handling, ample brakes, perfectly spaced cogs and not a hint of frame flexing, it was easy to believe you were riding a bike not that far removed from the Bultaco TSS race bikes we'd read about in the European sport press (considerably more removed as it turned out from a close look).
The Metralla's drawbacks were easy to discount, being suitably charmed by its best points. Anyplace in the owner's handbook that referred to "lights" should have been in quotation marks. The its 6 volt electrical system featured a headlight that had a luminescence comparable to a Bic lighter. The 2-stroke engine vibration broke headlight and tail light filaments every few hours of operation. The speedometer should have been placarded MPH; +/- 20% (not really a problem since they failed rather soon). Fasteners vibrated off with regularity and the paint finish was of wretchedly poor quality. But never mind. I was WITH THE PROGRAM.
My Metralla interlude came to an abrupt halt after only a few months of ownership thought. Parked at the Watering Hole early enough to get some grub and a mug, was greeted at my table by a fellow Clifton-carver who noted that he was surprised to se me there with my helmet, but no Metralla outside. I think that my fork was suspended in mid-air as the door swung and there was ................... no Metralla. Gone, vanished, evaporated. I suspect that the no-key feature had something to do with its disappearance, but otherwise it was gone forever. But maybe not.
Fast forward to the Spring of 2003. In a fit of serious lily-guilding on my 1975 Guzzi, I came across Paul Brodie, proprietor of Aermacchi NW. Paul had done some welding, fabricating and other metal tweaking on my utterly adulterated Guzzi 850T and in the process helping out with that at his shop, we started with a bit of horse-trading. A request came in to him for a restoration on a Guzzi Floorboard T-3 and we struck a deal for me to do the engine / transmission work and parts ordering "on account" against future work on my Guzzi (do these projects ever really end?) while he did all the frame related tasks . There were hours spent in his shop tearing down fixing, ordering and reassembling. And of course there was the usual ruminating about bikes once owned, wish had owned, wouldn't touch with a barge pole and all the attendant stories about the characters along the way. The T-3 finally fired up, was collected by its owner and about that time another call came in asking Paul whether he might be interested in a bit of trading for a heap of Metrallas and parts.
A fellow in N Vancouver had apparently been collecting Metrallas as whole bikes and any parts that came his way over the course of some years intending to do a restoration on one or some. Other projects had overtaken the Bultacos and he proposed that he would trade Paul the entire whack in exchange for one restored bike in one year. During the T-3 project I waxed nostalgic about my former Metralla, so Paul kept the horse-trading momentum going. Pretty quick, my "on account" for the T-3 work had been traded for a "rolling basket case" Metralla along with picking rights through the attendant parts heap.
Three van loads later the projects (and parts heap) were in the shop. and the tear-down began. .....

There were three bikes in the project: s/n's: 23.03.857 (1969); 23.04.439 (1971) & 23.04.812 (1972).

4.439 & 4.812 were pretty complete and apparently un-damaged. One was lacking its rear sprocket cover, but otherwise straight and complete. 23.03.857 was my rolling basket case.
---
RANDOM RESTORATION NOTES:
Both rear shock & front fork springs are single-rate rated at 50 lb. / in. compression

Spring dimensions:

Front Fork: height: 198.2 mm; outside diameter: 41.93 mm; inside diameter: 31.15 mm; spring wire dia.: 5.39 mm

Damper Fluid: Hugh's Bultaco recommends 5 wt. oil for the original Betor shocks. Fork oil spec from the owner's manual is 30 wt., John Sommerville recommends 40 wt. for un-worn forks. (I used Bel-Ray fork oil & shock oil)
For engine s/n's M23.00.001 - M23.01.470: 27mm Amal Monobloc w/ straight manifold, s/n M23.01.471 through M23.03.890 30mm Amal Monobloc w/ straight manifold, after s/n M2303891: 32mm Amal Concentric w/ 'gooseneck' manifold.
---
The stock kick starter with the "kink" smacks the rear brake pedal and ruins the paint. A straight-leg type pedal, though not original, mostly misses it, but a bit of rubber afixed to the pedal is still necessary. An "ISDT" model had an outward kinked kick starter that would most likely miss the brake pedal all together, or you can kink your own with a torch and straight one.

Flanders Company has a Motion-Pro petcock (p/n 121-12039) that works well for the oil petcock to the fuel tank. It has a fairly large I.D. that allows the oil to flow when pushing the pump piston without as much "shove" as a standard "on-off-reserve" one. The 1/4 in. NPT threads that it has can be easily cut down and a 12 X 1.5mm die run down it to fit the tank threads.

If you're missing the rear sprocket cover, contact Peter at Butaco Parts Australia. He provided fiberglass replicas that are near perfect.

Tire selection turned out to be Avon "Universal" race tires - 80/90-18 on the front & 90/90-18 on the rear (although this is considered a bit large for the stock WM-1 rear rim, but seems to work fine). 28 PSI front & 30 rear seems ball-park for an 85 kg. rider.

The Metralla owner's handbook calls out the ignition timing spec. as 3.5 - 3.7mm BTDC, this may be because of the availability of 100+ octane fuel at the time. In actual use this is far too advanced and produces pinging, overheating, hard starting and reluctance to accelerate in higher gears. (update) - with the carb jetting that I ended up with below, I decided to try a little more advance & am running it at 3.2mm BTDC. With that timing and the jetting below it seems to actually start more easily than before and revs a little more freely with no tendency to ping when it gets hot. I'm running Chevron 94 octane unleaded & Belray SI-7 oil @ 32:1.
John Somerville has a book that is a "demi-Guzziology" for Metrallas. It saved a lot of work and probably a whack of long-distance charges picking the various brains at Hugh's, Mobley's, BPA, etc. You can buy it at Hugh's.

Metralla Wiring Diagram (6 volt Euro, w/ city light, & no speedometer light)

Speeds in Gears at 7500 RPM* (MPH):

Sprocket sizes:

16/42

1st: 29.7 / 2nd: 49.8 / 3rd: 64.6 / 4th: 77.3 / 5th: 84.9

17/42 (or 16/40)

1st: 31.6 / 2nd: 52.9 / 3rd: 68.7 / 4th: 82.2 / 5th: 90.2

* It seems that even though a Cycle World article from the time lists the RPM redline / max HP at 8700 RPM, the crank & rod bearings will not survive too much time there. Other articles and ones that have tried it say 7500 RPM is a safe rev limit.

Metralla Serial Numbers by Year of Manufacture (Courtesy of John Somerville):

(2200 units) 23.00.001 - 23.02.200 = 1966
(1300 units) 23.02.201 - 23.03.500 = 1967
(257 units) 23.03.501 - 23.03.757 = 1968
(251 units) 23.03.758 - 23.04.008 = 1969
(350 units) 23.04.009 - 23.04.358 = 1970
(300 units) 23.04.359 - 23.04.658 = 1971
(219 units) 23.04.659 - 23.04.877 = 1972
(281 units) 23.04.878 - 23.05.158 = 1973
(350 units) 23.05.159 - 23.05.508 = 1974

Total 1966 - 1974: 5508
| | | |
| --- | --- | --- |
| Misc. bits ready to fit | Paul smoothes the weld splatter before powder coating | George checking the frame alignment. One was hardly off at all, another was off more, but acceptable. The swing arm pivot on the last one was far enough off to have to have one of the frame holes welded up & relocated. |
Two fork assemblies, ready for installation. Spring covers came in steel and black plastic.

There are two types of seats to adapt to the tanks on the right. The flat-end style goes with the tank that sits further aft than the round-end style.

Different fuel tanks have differently positioned forward mount shoes.The one on the left locates the tank about an inch further towards the rear.

Machining the LH case to adapt a splined shaft type bearing

Clutch run-out tool (with non-standard primary chain tensioner)

Shots from the painting process

Welded up and re-cut combustion chamber. Squish clearance - .040", CR 9.5:1 (thanks to Wally at Rutherford Engineering, Langley BC).

updated: November 2, 2005